Engineering Technology Teaching
Award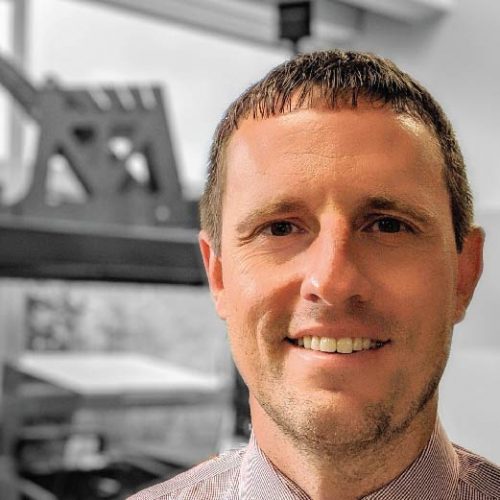 Questions regarding awards/awards nominations may be forwarded to Sylvie Nguyen-Fawley.
Questions regarding Fellow Member nominations may be forwarded to Tim Manicom.
Bio
Rustin Webster is an associate professor in the Purdue Polytechnic Institute at Purdue University who specializes in mechanical engineering and computer graphics technology. Prior to joining academia, he worked for an aerospace and engineering company as a mechanical engineer, product development lead, and researcher. Webster designed various solutions for multiple branches of the Armed Forces, the Department of Defense, and the National Aeronautics and Space Administration. He holds a B.S. in engineering graphics and design, an M.S. in management of technology from Murray State University, and a Ph.D. in interdisciplinary engineering from the University of Alabama at Birmingham. Webster is a certified GD&T-Technologist, SOLIDWORKS Expert, and Six Sigma Green Belt. For his teaching and mentoring of students he was awarded the 2021 ASEE ET National Teaching Award, the 2021 Purdue Teaching for Tomorrow Fellowship and 2021 Purdue Teaching Academy Pandemic Teaching Award, the 2019 ASEE Engineering Design Graphics Division's Rising Educator Award, and the 2019 SME Distinguished Faculty Advisor Award. Webster's research interests include ET outreach (e.g., recruitment and retention) and design education with focus areas in CAD, instructional techniques (e.g., project-based learning), and technology. His scholarship includes 28 peer-reviewed articles, 17 accepted scholarly presentations, multiple invited lectures on his teaching philosophy, methods, and experiences, and 11 awarded grants related to teaching and learning.
About the award
The National Outstanding Teaching Award recognizes an engineering or engineering technology educator for excellence in outstanding classroom performance, contributions to the scholarship of teaching, and participation in ASEE Section meetings and local activities. As an organization, ASEE is committed to the support of faculty scholarship and systems that develop pedagogical expertise. The award, established in 2003 by contributions from ASEE Sections, members, and industrial partners, consists of an engraved medallion, certificate, and complimentary registration for the ASEE Annual Conference.