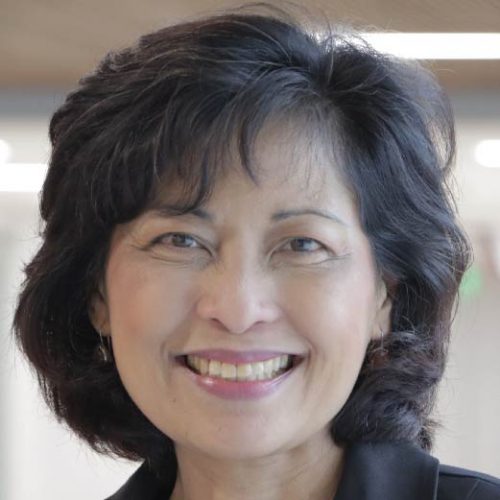 Questions regarding awards/awards nominations may be forwarded to Sylvie Nguyen-Fawley.
Questions regarding Fellow Member nominations may be forwarded to Tim Manicom.
Bio
Pauline Wade has capitalized on over 25 years of professional experience in the IT industry to lead initiatives in teaching, service, and program building.
Teaching:  Wade deployed courses for the Department of Computer Science at the University of the Philippines Cebu (UP Cebu) and Texas A&M University. Her main focus was to bridge the gap between students' academic experience and professional careers by engaging industry practitioners to collaboratively teach courses and participate in course and curriculum improvements. She developed the most industry linkages in all universities in the Cebu region.
University Service and Community Outreach:  Wade's involvement in collaborative programs with academia, government, and industry resulted in the following:
28 capability-building programs over 14 years, in four universities, helping to prepare more than 3,000 undergraduates for industry
Outreach campaign, funded by industry, promoting IT degrees to over 3,000 high school students
Creation of the Department of Science & Technology-UP Cebu Technology Business Incubator (TBI), which has incubated over 60 start-ups and received the University of the Philippines President's Excellence Award in 2017.  Wade raised over ₱18.1 million PHP ($369,800 USD) for the TBI and the Department of Computer Science for use in improving infrastructure and educational programs
Program Building:  Wade has consistently developed sustainable programs including:
Texas A&M's engineering honors program, as the assistant program director, with a 200% growth in membership since the inaugural year
New employee training programs, co-taught by faculty and industry professionals, for 400 employees of three multinational IT companies
Continuing education program for UP Cebu, consisting of over 30 courses for IT professionals
Wade graduated with a B.S. in computer science from Texas A&M University and an M.S. in computer science from Columbia University in New York. She is a mother of two sons and resides with her husband in College Station, Texas.
About the award
The Isadore T. Davis Award for Excellence in Collaboration of Engineering Education and Industry was jointly established and endowed by ASEE's Corporate Member Council, Engineering Deans Council, Engineering Technology Council, Engineering Research Council, and College-Industry Partnership Division.
The award celebrates the spirit and leadership of individuals who make a mark in improving partnerships or collaborations between engineering or engineering technology education and industry. The award is intended to promote collaborations and partnerships between engineering or engineering technology education and industry to improve learning, scholarship, and engagement practices within the engineering education community.